The Campaign: Honesty
0:57
The Campaign:
Honesty
In this clip from the satirical comedy about U.S. election politics, long-term congressman Cam Brady (Will Ferrell) reacts to a proposal for substantial campaign financing.
Key Vocabulary
reform
donate
PAC
footsie
switch-hitter
it goes without saying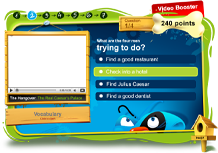 Start Learning English Now!
A Video Booster is a 6-step interactive English exercise that helps you learn and practice English vocabulary items, idomatic expressions and grammar seen and heard in video clips.
Free Trial
Free Trial
To play this Video Booster, activate your 3-day Free Trial. You'll then have access to over 1,000 video-based English lessons like this one, as well as all of our visual dictionaries, and games for learning English.
21 comments