Revenge: I Took Care Of Him
1:00
Revenge:
I Took Care Of Him
In this scene from ABC's drama series, Amanda (Margarita Levieva) turn up suddenly on doorstep of Emily (Emily VanCamp) to tell her they must leave in a hurry after their secret is discovered. Someone sees them leave.
Key Vocabulary
figured out
took care of
Damn it
safe
switched
be seen
worry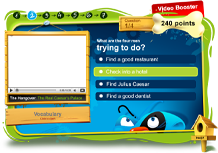 Start Learning English Now!
A Video Booster is a 6-step interactive English exercise that helps you learn and practice English vocabulary items, idomatic expressions and grammar seen and heard in video clips.
Free Trial
Free Trial
To play this Video Booster, activate your 3-day Free Trial. You'll then have access to over 1,000 video-based English lessons like this one, as well as all of our visual dictionaries, and games for learning English.
Video Preview
Revenge: I Took Care Of Him
19 comments