Spartacus: Gods Of The Arena: No Champion Of My House
1:35
Difficulty level:
Intermediate
Spartacus: Gods Of The…
No Champion Of My House
The owner of a fighting school speaks with a gladiator and his trainer about what it takes to be a great fighter.
Key Vocabulary
forged
culmination
arena
ludes
speaks to
seek to
dedication
sacrifice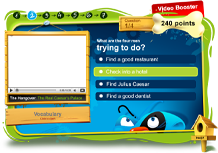 Start Learning English Now!
A Video Booster is a 6-step interactive English exercise that helps you learn and practice English vocabulary items, idomatic expressions and grammar seen and heard in video clips.
Free Trial
Free Trial
To play this Video Booster, activate your 3-day Free Trial. You'll then have access to over 1,000 video-based English lessons like this one, as well as all of our visual dictionaries, and games for learning English.
Video Preview
Spartacus: Gods Of The…No Champion Of My House
11 comments